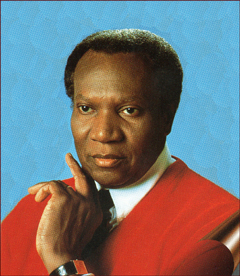 Simon Estes

Internationally renowned opera star Simon Estes enjoys the ecstatic praise
of music lovers around the globe. A prize winner in Moscow's Tchaikovsky
Competition in 1966, he has since performed with all the major international
opera companies including the Metropolitan Opera, La Scala Milan, Lyric
Opera of Chicago, the Paris Opera, Royal Opera House Covent Garden, Gran
Teatre del Liceu in Barcelona, San Francisco Opera, Deutsche Oper Berlin,
Florence Opera, and the State Operas of Hamburg, Munich and Vienna as well
as the Zurich Opera House. In high demand as a recitalist and orchestral
soloist, he appears regularly with the Berlin Philharmonic, Boston Symphony,
Chicago Symphony, Los Angeles Philharmonic, New York Philharmonic,
Philadelphia Orchestra, The Philharmonia Orchestra of London and the Vienna
Philharmonic. Among the conductors with whom Mr. Estes has worked are Gerd
Albrecht, Leonard Bernstein, Gary Bertini, Myung Whun Chung, James Conlon,
Sir Colin Davis, Rafael Fruhbeck de Burgos, Carlo Maria Giulini, James
Levine, Lorin Maazel, Kurt Masur, Zubin Mehta, Riccardo Muti, Seiji Ozawa,
Mstislav Rostropovich, Esa-Pekka Salonen, Wolfgang Sawallisch, Giuseppe
Sinopoli, Sir Georg Solti, Horst Stein, Marcello Viotti and David Zinman.
[NL][NL]Of the nearly hundred roles in his repertoire, he is most often
associated with King Phillip in Don Carlos, Wotan in Wagner's Ring cycle,
Amfortas in Parsifal, King Mark in Tristan and Isolde, the four
bass-baritone roles in The Tales of Hoffmann, Escamillo in Carmen, Porgy in
Porgy and Bess and the title roles in Boris Godunov, Verdi's Attila and
Macbeth and The Flying Dutchman. In this latter role he appeared
triumphantly for six successive years at the Bayreuth Festival, his debut
there marking the first appearance of any black male artists at this shrine
to Richard Wagner. Mr. Estes' recording of The Flying Dutchman, with
Woldemar Nelsson conducting the Bayreuth Festival Orchestra and Chorus, is
available on the Philips Classics label. [NL][NL]Aside from his landmark
appearances at Bayreuth, many other historic musical events have marked Mr.
Estes' career. In June and November of 1989, he sang at the White House for
President Bush. In past years, he gave a command performance for President
Lyndon B. Johnson at the White House, appeared at the inaugural concert of
the Kennedy Center as soloist in William Schuman's A Free Song, which was
attended by Richard Nixon, and sang at both the 25th Anniversary of the
United Nations and the opening of the Olympic Games in Munich. In July 1986,
he performed in New York with the Boston Pops as part of the Statue of
Liberty centennial celebration. He performed in the United States premiere
of Shostakovich's 14th Symphony with Eugene Ormandy and the Philadelphia
Orchestra and created the part of Uncle Albert in the world premiere of
Gunter Schuller's The Visitation. In 1977, he sang the title role in one of
the first modern productions of Verdi's rarely performed first opera,
Oberto, in Bologna; in 1979, he played the Pharaoh in the historic revival
of Rossini's Moses at La Scala; and, in 1985, he was the Metropolitan
Opera's first Porgy.[NL][NL]Among his recording credits, Mr. Estes counts
works on the Auvidis, Decca, Deutsche Grammophon, Deutsche Schallplatten,
EMI, Philips Classics and Sony Classical labels. He has recorded in Bayreuth
Wagner's Flying Dutchman which was also filmed and televised by Unitel and
the centennial production of Parsifal with James Levine conducting the
Orchestra and Chorus of the Bayreuth Festival. Other recordings include
Bizetâ€(tm)s Carmen with Seiji Ozawa and Jessye Norman, Highlights from
Porgy and Bess, and a collection of Broadwayâ€(tm)s Greatest Hits with
Willie Anthony Waters conducting; Verdi's Requiem and Mozart's Requiem as
well as Beethoven's Ninth, all conducted by Carlo Maria Giulini. With Sir
Colin Davis he has recorded Handel's Messiah, the FaurA(c) Requiem,
Beethoven's Ninth Symphony and Samson and Dalila from Saint-Saens; with the
Vienna Philharmonic and Lorin Maazel Mahler's Symphony No. 8 and
Strawinsky's Oedipus Rex with Esa-Pekka Salonen conducting. His last
recording of Spirituals with Donald Ryan as accompanist and arranger has
been released on the Deutsche Schallplatten label and in the recording of
Berthold Goldschmidt's opera Beatrice Cenci - on Sony Classical - Simon
Estes has portrayed the role of Cenci.[NL][NL]In January of 1990 Simon Estes
sang for the inauguration of the first black governor of the United States,
Governor Wilder of the State of Virginia. In June of 1990 Simon Estes sang
for Mr. Nelson Mandela at the Service of the Riverside Church in New York
City and for the July 4th celebration he sang with the National Symphony
Orchestra, conducted by Mstislav Rostropovich at the Nations Capitol. In
August of 1990 Simon Estes was in Oslo and sang for the Conference of The
Anatomy of Hate under the patronage of the Norwegian Nobel Peace Prize
Committee and The Elie Wiesel Foundation for Humanity. Some notable figures
that were present in Oslo were former President Jimmy Carter, former
president from France Francois MittA(c)rand, former president from
CzechoslovakiaVaclav Havel, Nelson Mandela, Elie Wiesel and many other
important artists and literary people. In June of 1993 Simon Estes sang for
Hillary Clinton in Washington D.C. at a luncheon honoring the First Lady. In
the fall of 1994 he sang for Nobel Laureate Archbishop Desmond Tutu in The
Cathedral of St. John The Divine in New York. Mr. Estes has performed twice
for the Pope at the Vatican in Rome, Italy. Presidents of the U.S.A. for
whom Mr. Estes has sung are; Johnson, Nixon, two times for George Herbert
Bush, Carter, and the inauguration festivities for Clinton. Other countries
Presidents Mr. Estes has performed for are; Canada, Czechoslovakia, France,
Germany, Switzerland, and South Africa as well as Royalty from; Monaco,
England, Sweden, Norway, Romania, and Spain.[NL][NL]Mr. Estes' autobiography
entitled Simon Estes In His Own Voice was published in 1999 and includes a
CD.