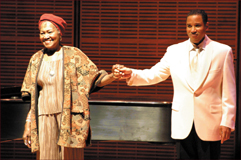 Odetta and Robert Sims

The legendary, ODETTA and Robert Sims the Gold Medal Winner of the American
Traditions Vocal Competition have joined forces in duo concert performances
of spirituals, freedom songs, folk songs and work songs. Their concerts
celebrate the rich history and artistry found in this important American
music, and explore in song the faith, hope, joy, protest and double and
triple meanings contained within.
ODETTA, described by The New York Times as one of the most influential
artists of the 20th Century and honored with scores of awards, has enjoyed a
50 year career including movie and stage acting, story telling, singing and
performing protest songs for civil rights movements with Dr. Martin Luther
King Jr.
Robert Sims, called by the Chicago Tribune "...Stunning, Dazzling and
Sublime...", is highly regarded for his "moving" and "authentic"
interpretations of African American spirituals and folk songs, and has given
recitals of spirituals throughout the United States, Europe and Asia.
It is no wonder why these two extraordinary artists' performances have been
greeted with standing ovations from San Franciso on the west coast to New
York' Carnegie Hall on the east coast.